[ad_1]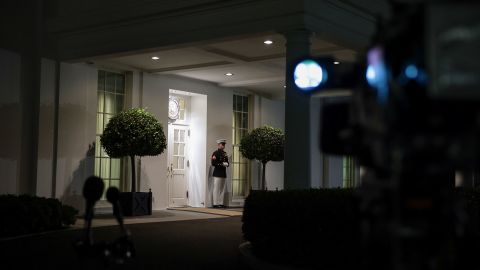 (Anna Moneymaker/Getty Images)
A Marine stands outside the West Wing of the White House on Thursday, September 30.
Moderate Democrats in the House are growing increasingly frustrated by the White House as they feel like the President has not been forceful enough in demanding exactly what he wants or trying harder to push progressives to give in.
Some moderates are arguing at this point, House Speaker Nancy Pelosi needs to put the bill on the floor, even if it fails, to make a point about what is at stake and put progressives in the hard position of actually voting "no" on a piece of the President's agenda.
A lawmaker close to the moderate group negotiating with Pelosi on a vote for the bipartisan infrastructure bill ASAP told CNN this morning they don't understand why Biden hasn't laid out more publicly what he wants to see directly from all sides on his agenda.
Privately, of course, the White House has been making their wishes quite known, trying to get to a place where progressives would settle for a framework agreement signed off on by West Virginia Democratic Sen. Joe Manchin and Arizona Democratic Sen. Kyrsten Sinema rather than forcing the Senate to vote for a reconciliation bill that could take weeks to pull together.
For moderates, the Speaker made them a promise and while they were largely willing to let it slide when the Monday rolled into Thursday and Thursday rolled into Friday, that patience is waning.
"We are willing to give the speaker some wiggle room to get this done this week, but If she pulls the vote, there is irreversible damage done to trust with rank and file members… she has to put the bill to the floor," one Democratic aide said.
"We would rather progressives defeat it than try and negotiate for two weeks," the aide continued.
Where things stand: The problem for the White House is two-fold. There is no sign that progressives would take a framework as enough to vote "yes" on the bipartisan infrastructure bill and there is absolutely no sign Manchin is going to come up to the $2.1 trillion they are floating. Without someone giving, Pelosi could be forced to make a decision about whether putting the bill on the floor without the votes would be the only catalyst to get things moving.
Moderates are getting more resolute.
"We are happy to walk away from everything… The President and Progressives need this more than we do," the Democratic aide said.
[ad_2]